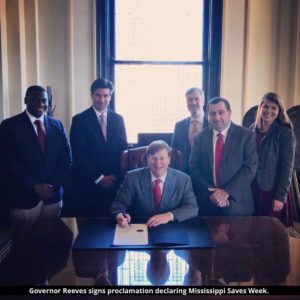 Happy Friday! It's been a busy week at your State Treasury. I was a part of numerous meetings to discuss how to continue to protect taxpayer dollars, we matched Mississippians with thousands of dollars of unclaimed property, and I joined Governor Reeves in declaring this week Mississippi Saves Week.
Savings and financial literacy are some of my office's core functions. Here's how we can help:
✅College Savings Mississippi. Putting money away for your child's education can start with as little as $25. (And remember: You don't have to be a parent to start a college savings account. Open one for your grandchild or niece/nephew too!) Learn more here.
✅ABLE Act Support. President Trump's tax reform package expanded opportunities to save for disability-related expenses. Learn more here.
✅Financial Literacy. Test your personal finance skills now! Learn more here.
Once you check out a link or two above, please forward this email to a friend. Together, we can get more people saving!
All the best,
David