State Treasurer, Legislature Join Forces to Improve College Savings Investment Returns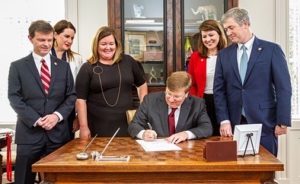 Treasurer David McRae applauded the State Legislature's collaboration on a plan to improve College Savings Mississippi investment returns. The State Treasurer joined Governor Tate Reeves this week for the legislation's signing.
"The State Treasury's foundational responsibility is to be a good steward of taxpayer dollars, and that's exactly what we've accomplished," said McRae. "With this legislation, we reduced the burden on taxpayers, introduced much-needed flexibility into the investment strategy, and gave families greater peace of mind about the college savings plans they've invested in. I want to thank Senator Josh Harkins, Representative Trey Lamar, and the State Legislature for working with our team to get this legislation passed."
Signed into law this week, SB2881, the College Savings Plans of Mississippi Investment Policy, reflects the Investment Policy of PERS, which was the Legislature's original intent. In short, the legislation makes meaningful improvements to the asset allocation and investment policy, building greater efficiency and flexibility into the investment strategy.