Treasurer McRae Announces 2023 Art Contest Winners
JACKSON, Miss. – David McRae this week announced the 2023 College Savings Mississippi Art Contest winners with a reception at the Mississippi Museum of Art. Twelve students and one teacher took home a combined $3,500 worth of scholarships during the event.
"In these students' artwork, we saw the beauty of their creativity, but also a snapshot of their dreams," said McRae. "I'm thrilled to help them in their journey to achieve those dreams with a scholarship from College Savings Mississippi."
The College Savings Mississippi Art Contest is an annual event held by the State Treasurer's Office. This year, more than 1,000 students competed for twelve scholarships by drawing a picture of what they wanted to become when they grew up. First place winners will receive a $500 scholarship in the form of a Mississippi Affordable College Savings (MACS) account. Second place receives a $250 scholarship, and third place receives a $100 scholarship.
Additionally, Oak Grove Middle School's Art Teacher Kimberly Stinson was awarded an Educator Scholarship for the third year in a row. She helped more than 130 students submit artwork this year.
MACS is a Mississippi 529 College Savings plan offered through the Office of the State Treasurer. With MACS, families can open a tax-advantaged savings account for educational expenses. The money in these accounts can be used for college tuition and expenses. The funds can also be applied to secondary and elementary private tuition, apprenticeship programs, student loans, and more. For detailed information about the program, please visit Treasury.MS.gov/MACS.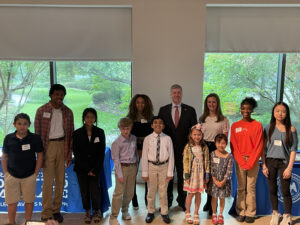 Group Photo (Download)
2023 ART CONTEST WINNERS
Age Group: Early Elementary (PreK-Grade 2)
1st Place: Nora Guo from Madison, Saint Andrews Episcopal School (Art / Event Photo)
2nd Place: Baylor Bounds from Hattiesburg, Presbyterian Christian School (Art / Event Photo)
3rd Place: Vera Kate Parsons from Iuka, Iuka Elementary School (Art / Event Photo)
Age Group: Elementary (Grades 3-5)
1st Place: Lauren Phou from Southaven, DeSoto Central Elementary School (Art / Event Photo)
2nd Place: Atharva Mantri from Meridian, Northeast Lauderdale Elementary School (Art / Event Photo)
3rd Place: Jasper Powell from Jackson, Ida B. Wells APAC (Art / Event Photo)
Age Group: Middle School (Grades 6-8)
1st Place: Jo Lin from Madison, Madison Middle School (Art / Event Photo)
2nd Place: Michael Bland from Madison, Madison Middle School (Art / Event Photo)
3rd Place: Joselin Godinez from Madison, Madison Middle School (Art / No Event Photo)
Age Group: High School (Grades 9-12)
1st Place: Jaliyah Bell from Jackson, Ida B. Wells APAC (Art / Event Photo)
2nd Place: Kadence Anding from Brandon, Brandon High School (Art / Event Photo)
3rd Place: Gracey Nerren from Isola, Deer Creek School (Art / Event Photo)
Teacher
Kimberly Stinson, Oak Grove Middle School (Event Photo)
RESOURCES
MORE INFORMATION / BOOK AN INTERVIEW
Please contact Brittany Comins at press@treasury.ms.gov