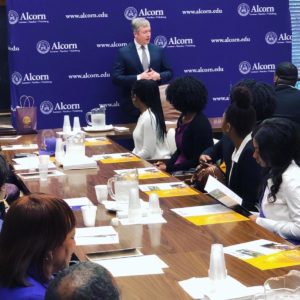 "The next step forward in building an inclusive society is making sure every young American gets a great education and the opportunity to achieve the American Dream."
Those words from President Trump's State of the Union this week really stuck with me, as they touch on one of the core responsibilities I have as Mississippi State Treasurer. In addition to returning unclaimed property and making sure our fiscal house is in order, the Treasury Department manages College Savings Mississippi. This is our state's way of helping families give their children the opportunity to achieve the American Dream.
Along these lines, I had the chance to sit down with students and faculty from Alcorn State this week, which has campuses in Lorman, Natchez, and Vicksburg.
We had a great discussion about making college more accessible and affordable to everyone. Thanks to all who attended this week's Purple & Gold Day. It was so clear during our discussion that the Braves spirit has never been stronger than it is today.
Over the next four years, the Treasury Department will be undertaking a massive effort to ensure more Mississippi students have the opportunity to pursue their American Dream. College Savings Mississippi plays a big role in this. Please visit treasury.ms.gov to learn more.
Hope to catch up again soon!
-David
Mississippi Affordable College Savings (MACS) Program. MACS makes giving the gift of college easy and affordable. This state-sponsored savings program helps Mississippi families save for future college expenses, such as tuition, books, supplies, and certain room and board expenses.
Mississippi Prepaid Affordable College Tuition Plan (MPACT). MPACT prepays the cost of tuition and mandatory fees, while protecting against future college tuition increases. MPACT is the only 529 prepaid tuition plan available that is guaranteed by the State of Mississippi.