How To Use HRS Pro
We are requiring all our holders to report electronically from now on to help mitigate the spread of Covid-19. We require no paperwork by mail (no signatures or notarizations) if you are submitting your reports electronically through our website.  If you have not reported electronically before we offer free software to create your file called HRS Pro.   It can be accessed at the following link: https://hrspro.unclaimedproperty.com/
Step 1: Download HRS Pro Software and Register.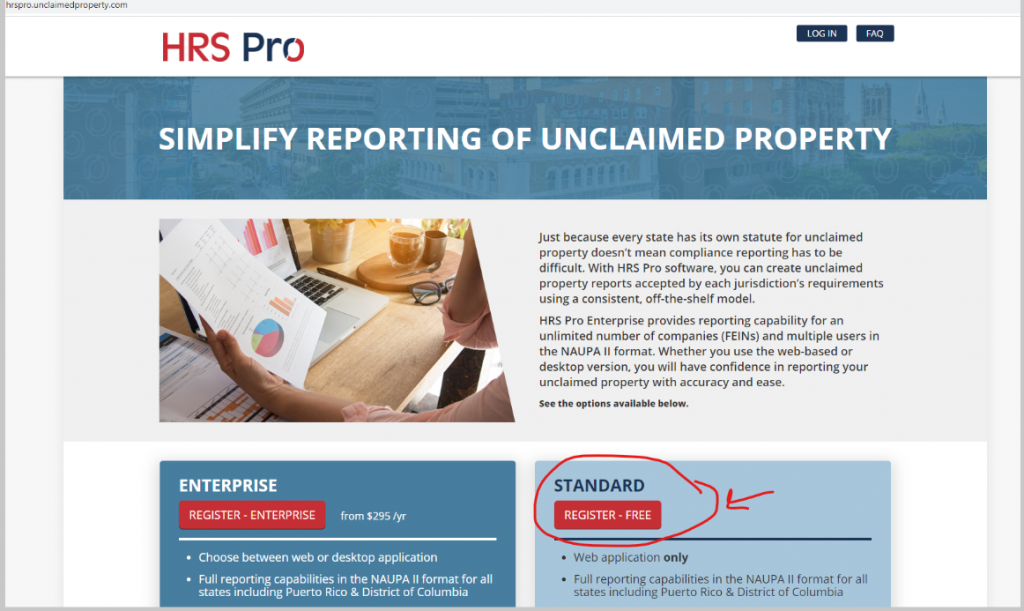 This software will take your information and create a naupa-encrypted hde file.  It will give you the option to manually enter each owner's information or upload from an excel spreadsheet template offered on the HRS Pro page.
Step 2. Either Manually enter your report information or download the HRS Pro Template to import your information from a file.
To manually enter each property:

Once you click on 'Create Manual Report" the program will take you through a series of fields to enter information on each property you are reporting.   This option is most appropriate for companies reporting less than 20 properties.   If your report contains more than 20 properties it will be more beneficial for you to download the HRS Pro excel template and prepare a file to upload.
OR  Choose "Import from File" and Download the HRS Pro Template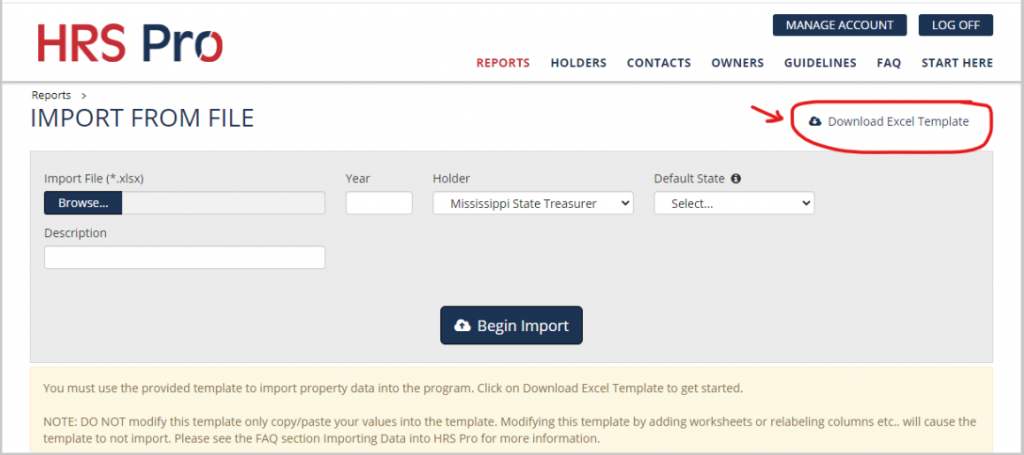 If you choose to use this template, only the yellow highlighted fields are required.   It is important to note that you must not change the formatting on this template.  If you are cutting and pasting information into the fields from your own excel spreadsheet please copy as plain text.   Once you have all of the required fields complete, import the completed excel spreadsheet.  Correct any errors that occur.
Step 3. Download your Naupa Encrypted HDE File.
Once you have either manually entered your information or imported your information from file using the HRS Pro template, you will download your report in HDE format using the button located in the right hand corner.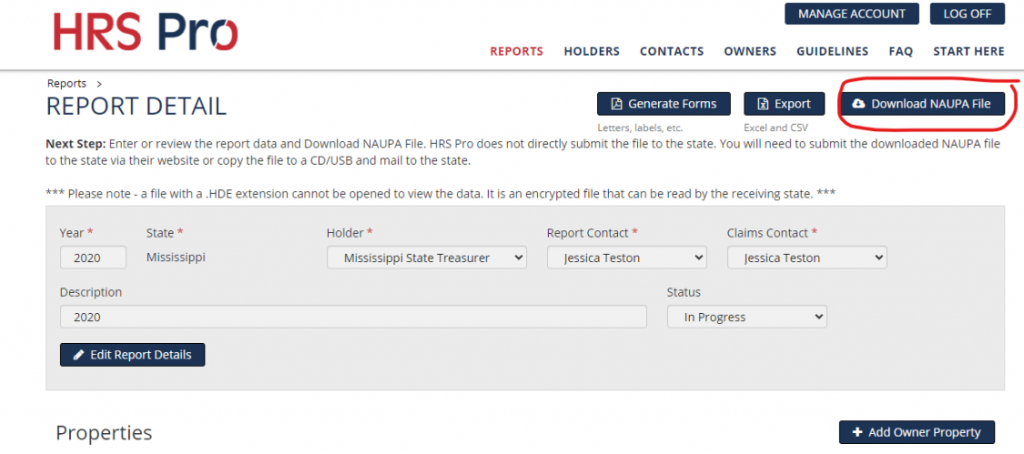 Note:  Make sure you save this HDE file to an easily located file on your computer.
Step 4.  Upload your Naupa-Encrypted HDE File to the Treasury Website.
If you don't have an encrypted .hde file but do have the Naupa file, you can encrypt the file with software found via the FAQ on HRS Pro website at the very bottom of the FAQ.
Once you have created your naupa-encrypted hde file, you will upload that file to the portal on our website found at the following link:
https://www.ms.gov/mtd/unclaimed_upload/Home/SignIn       You will create an account here for your company and upload your file.
Once you have your file uploaded and you are ready to submit payment  please e-mail me a screenshot of your 'previous uploads' page showing where you uploaded your file and let me know how you submitted payment. Below is an example of what your 'previous uploads' screen should look like:

If you need to mail a check, print out a copy of your screen shot to mail in with your check so I can match it with your file.  If you require Ach or Wire instructions, please let me know.
E-payments can be made via the following link:
https://www.ms.gov/mtd/epayment_app/Home/UserInfo
Most common questions can be answered via our frequently answered questions fact sheet at  https://treasury.ms.gov/for-businesses/unclaimed-property-reporting/frequently-asked-questions-for-holders/