Mississippi Newborns Awarded Scholarships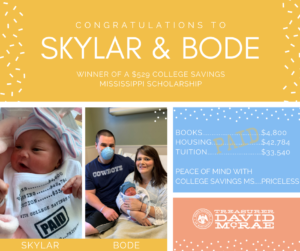 Treasurer David McRae today announced two Mississippi newborns were each awarded $529 Mississippi Affordable College Savings (MACS) scholarships. The scholarships were part of the State Treasury's 529 Day promotion. Scholarships were awarded to the two babies born closest to 5:29AM and 5:29PM on May 29 (5/29). The scholarship comes in the form of a tax-advantaged 529 savings account.
The 2020 scholarship recipients were as follows:
Skylar Taylor (Hernando) was born at 7:14AM on May 29 at Baptist Memorial Hospital-DeSoto
Bode Robinson (Aberdeen) was born at 6:59PM on May 29 at North Mississippi Medical Center Women's Hospital
"It is never too young to begin saving for your child's education. That's a lesson Skylar and Bode learned on Day 1," said McRae. "Most people don't realize a plan through College Savings Mississippi can fit into almost any family's budget. For just $25, a parent, grandparent, or even family friend can open an account and start making contributions that can dramatically impact the child's future educational ambitions. Please visit treasury.ms.gov to learn more."
This year, 29 Mississippi hospitals participated in the competition. To learn more or start a MACS account, visit Treasury.MS.gov.